ED Junior Dynamometer EDjr-1T
Description
| | |
| --- | --- |
| Product Name | ED Junior Dynamometer |
| Model # | EDjr-1T |
| Mechanical or Digital | Digital |
| Unit of Measure | lbf, kgf & Newtons |
| Capacity – lbf | 2500 lbs |
| Capacity – kgf | 1,000 |
| Capacity – Newtons | 10,000 |
| Wireless remote display capability | N |
| Display | 128 x 64 dot-graphic LCD 1″ |
| Accuracy | ± 0.2% of instrument capacity |
| Shackles Included | Y |
| Resolution | 1/1000 resolution |
| Data Export | N/A |
| Memory | N/A |
| Modes | Live & Peak display modes |
| Capture Rate | 10Hz |
| Proof Load | 200% of capacity |
| Safe Overload | 200% of capacity |
| Operating Temperature | -4° F to 158° F (-20° C to 70° C) |
| Environmental | Suitable for continuous outdoor use |
| Battery | 2 x C batteries with 425 hours life |
| Suggested Recalibration | Every 12 months |
| Approvals | CE |
| Protection | Hard polymer storage case included along with calibration certificate |
Dillon EDjunior Dynamometer
Affordability shouldn't mean compromising quality or safety. The EDjunior proves that economy goes hand-in-hand with accuracy, long service life and worker safety. It has a Spartan design that was a direct response to industries wanting a well-built, reliable instrument for simple–but important–measures of weight and force.
The EDjunior is a rugged instrument capable of consistently delivering accurate results. Behind its simple design and easy operation, it draws from the same best-in-class engineering as the Dillon EDXtreme.
Range
2,500 lb to 25,000 lb
Units of Measure
lbf, kgf & Newtons
Resolution
1/1000 resolution
Memory Storage
N/A
Data Export
N/A
Operating Range
-4° F to 158° F (-20° C to 70° C)
Recalibration
Every 12 months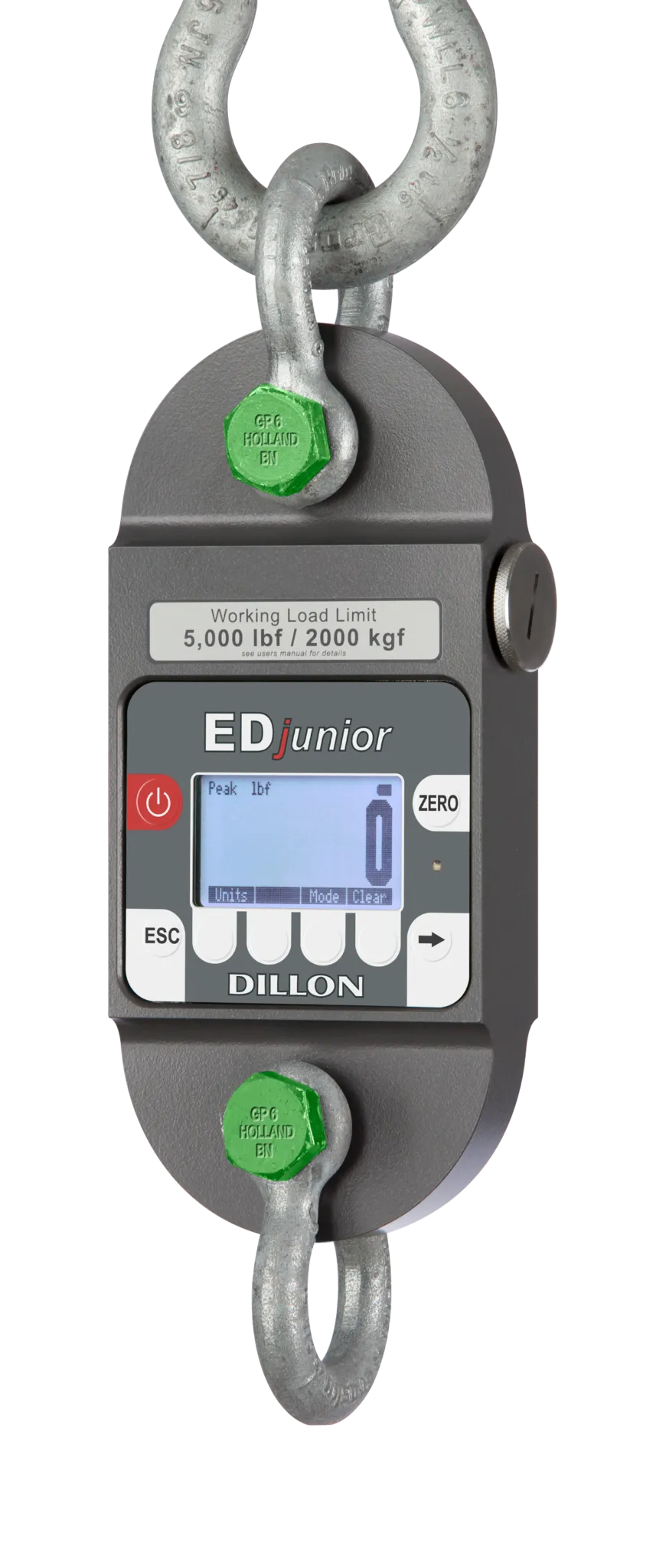 Proof Load
150%
Modes
Live & Peak display modes
Capture Rate
10Hz
Accuracy
± 0.2% of instrument capacity
Display
Dot-graphic LCD display supports full text and 1" high digits
Environmental
Suitable for continuous outdoor use
Approvals
CE
Resources
What is the difference between the EDXtreme, EDjunior, and AP Mechanical dynamometers?
chuzles
2022-10-26T22:36:36-05:00
The AP is a simple mechanical dynamometer with a dial face. The EDjunior is a basic digital dynamometer. The EDXtreme is a digital dynamometer with extra features such as data logging, custom units and optional remote viewing. There are some specification differences as well.
Advantages of the EDjunior Dynamometer
Find The Right Dynamometer
Let's Talk
Want to learn more about the EDjunior dynamometer? Fill out the form and we'll get back to you as soon as possible.